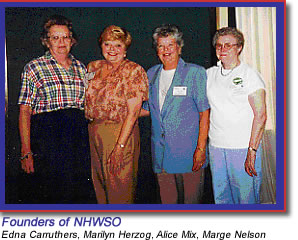 NHWSO, Inc. (National Holstein Women's Scholarship Organization, Inc.), is a 501(c)3 non profit, tax exempt organization. We provide financial assistance in the form of scholarships to deserving young men and women in furthering their college education at the undergraduate or graduate level.  NHWSO had its beginnings in the mid 1970s when some Holstein women were exchanging recipes and decided to ask all Holstein women across the United States to share their favorite recipes for a cook book. Receipts from sales of the cookbook were put in a fund and the interest used for scholarships. Since then two more cookbooks have been compiled – the "Black and White Cook Book II" (which also includes recipes from our International Holstein friends) and a chocolate cookbook, "Simply Sinful".  A very popular Silent Auction is held annually at the National Holstein Convention which assists in providing a greater number and larger scholarships.   We also have received personal and corporate donations which further assist us with our scholarship efforts.
Each year any interested Holstein Junior member is eligible to submit a scholarship application and participate in an interview at the Holstein Annual Meeting and Convention.  Our first scholarship was given in 1980.  Since that time through the 2015 awards, the collective interest, efforts, and contributions of hundreds of ladies, their families and friends have made it possible for NHWSO to provide 159 scholarships totaling $191,500.
Any person, partnership, corporation, association, etc. who is interested in NHWSO's efforts is eligible for lifetime membership.
Donations and gifts from both members and nonmembers are welcomed, truly appreciated and make it possible to expand our scholarship efforts.